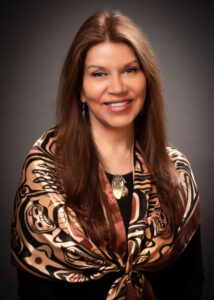 Dr. Charlotte Coté (Tseshaht/Nuu-chah-nulth) (Co-Founder and Planning Committee Chair)
Dr. Charlotte Coté is Associate Professor in American Indian Studies at the University of Washington. She has dedicated her personal and academic life to creating awareness around Indigenous health and wellness issues and in working with Indigenous peoples and communities in revitalizing their traditional foodways. Dr. Coté is the author of Spirits of Our Whaling Ancestors. Revitalizing Makah and Nuu-chah-nulth Traditions (UW Press, 2010). Her current book, A Drum in one Hand, A Sockeye in the Other. Stories of Indigenous Food Sovereignty from the Northwest Coast (UW Press, 2021) explores how traditional foods play a major role in physical, emotional, spiritual, and dietary wellness.
Dr. Coté chairs the UW's wǝɫǝbʔaltxʷ Advisory Committee, serves on UW's Center for American Indian/Indigenous Studies (CAIIS) Board, the Burke Museum's Native American Advisory Board, the Na-ah Illahee Fund Board, and the NDN Collective Northwest Coast Advisory Board. She also served on the Potlatch Fund Board and for seven years served as President. Dr. Coté serves as editor for the UW Press' Indigenous Confluences Series.